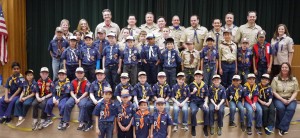 Welcome to Cub Scouting! We want to congratulate you on the important decision you've made to become a part of Scouting. Not only will your son have lots of fun at our camps, racing derbies, and various den activities, he will also learn many life skills and moral values that will help him grow into a happy and productive young man. Scouting values can be summed up in the Boy Scout twelve laws – a scout is trustworthy, loyal, helpful, friendly, courteous, kind, obedient, cheerful, thrifty, brave, clean and reverent.
Pack 94 is one of the largest and most active Cub Scout Packs in the entire Sacramento area. The Folsom City Lions Club is our official Charter Partner. Our creative and active parents are one of the things that make our Pack so successful. Please continue to support your son's den leader and our Pack activities. We have found that all parents have something they can offer to continually improve our Pack. We firmly believe in the T.E.A.M. concept: Together Everyone Achieves More.
This website is designed to help all of our Cub Scouts and their families succeed in Pack 94. We have outlined some of the basic information you should know about Pack operations and what is expected from the boys and their families. In turn, we also outlined what you should expect from us.
Cub Scouting Overview
Each Cub is a member of a den led by a team of adult volunteers, the den leader and assistant den leader(s). Most dens have six to eight boys who are the same grade in school. Dens usually meet weekly or bi-weekly. Den meetings are a time for learning new things, working on achievements, and having fun!
Each Cub is also a member of Cub Scout Pack 94. Our pack is made up of several dens of each rank (Tiger, Wolf, Bear, and Webelos.) We gather monthly at a pack meeting which is a time for the boys to be recognized for their accomplishments, to perform skits and songs they have learned, and to have fun as an entire family.
We also have a variety of other events during the year including community service projects, pack activities, fund-raising events, and camp outs. The specific dates for these events are listed in the Pack Calendar. These dates are subject to change due to availability of facilities. Be sure to check the newsletter for such changes.
Our Pack is lead by the Cubmaster, the pack committee, and chairpersons. Like the den leaders, the Cubmaster and assistants are volunteer leaders and are usually family members of the boys in the pack. The pack committee makes plans of the "business" items necessary for a quality pack program.
Joining Pack 94
To join Pack 94 you will need to complete the required registration forms, and submit your registration fees. Registration fees make up a small part of our yearly budget. We depend on successful fund-raising to off-set the majority of our operating expenses and to keep registration fees affordable. This amount is due at the time of your registration in September. Fee assistance is available, if needed.
If a Scout joins in January or later, his Registration Fees are half price. If for any reason a Scout leaves our Pack on or before the November Pack meeting, he is entitled to a full reimbursement. If a Scout leaves our Pack after the November Pack meeting, no reimbursement will be issued.
Parent Involvement
Pack 94 welcomes and needs parent input, commitment, and support. Without the support of parents, the Pack could not provide a quality program. Since our Pack is run entirely by parent volunteers, each parent is expected to volunteer a minimum of 2 hours of their time and energy per year for pack activities.
We can always improve our activities, so please do not hesitate to come to any Pack Leaders meeting and give your input. These are held at the Broadstone Round Table Pizza , on the third Wednesday of each month at 6:00 pm. Our ultimate goal is to present the best Scouting experience to all our boys.
Parents can help serve the pack in many direct ways:
Support your son enthusiastically all the way through his Scouting career. The Cub Scout Handbook explains the requirements for each rank. Help him achieve in every way that you can.
Be a Den Leader. As a den of new Cub Scouts is formed, there must also be a minimum of two parents willing to serve as Den Leader and Assistant Den Leader. New leaders are trained and will have all of our resources available to them. Our Den Leader Coordinator, Cubmaster and Committee Chairperson are at your disposal as well as all current leaders.
Serve on the Pack Committee. Members meet monthly to plan future events, create policies for the Pack, review the program, and address any issues that arise. These positions are listed on the Pack Roster.
Be an Activity Chairperson. Each activity has two chairpersons who head a parent sub-committee for that particular event. Activity chairs are given a list of parents who have already volunteered to help with the event. They will coordinate the effort and report their progress to the Pack Committee.
Serve on an activity sub-committee. Parents will collectively organize a one-time event. Time required will vary depending on the type of event. This is a minimal commitment that even the busiest of families can accomplish.
Be a Coordinator. Parents are responsible for managing several ongoing activities for the Pack. Some examples include, selling pack t-shirts, publishing the newsletter, managing the recycling, ordering awards and many other activities.
Pack Leadership
PACK COMMITTEE
Pack 94 is under the supervision of a pack committee.  The committee oversees all pack functions, supports den leaders, and strives to provide a quality pack program.  Please see the Pack Leadership Roster for complete listing of pack committee positions.  Committee meetings are held each month in conjunction with the Pack leaders meeting.  Please see the Pack Calendar for meeting times and places.  Parents are encouraged to attend these monthly meetings; their input is greatly needed and appreciated.
CUB MASTER
The Cubmaster is the guiding hand behind the work of other pack leaders and serves as program adviser to the pack committee.  He or she is a recruiter, supervisor, director, planner, and motivator of other leaders.
The Cubmaster's main responsibilities are to:
Work directly with the leaders to ensure all dens are functioning well.
Plan the den and pack programs with the help of other leaders.
Lead the monthly pack meeting.
Coordinate the total Cub Scout program in the pack.
ASSISTANT CUB MASTER
The assistant Cubmaster works directly with the Cubmaster as requested.
COMMITTEE CHAIR
The Committee Chair guides the pack's business and serves as its administrator. In addition, the Committee Chair coordinates round-up and registration, works closely with the Cubmaster, conducts pack programming, and oversees all pack events during the year.
SECRETARY
The Secretary maintains up-to-date membership information, handles pack correspondence, records pack leaders' meeting minutes, and notifies leaders' of meetings and other activities.
TREASURER
The Treasurer helps establish a sound financial budget, maintains the bank account, updates the financial records, produces budget reports, and guides the pack's fund raisers.
DEN LEADER COORDINATOR (PACK TRAINER)
The den leader coordinator conducts orientation for new families and pack leaders. In addition, the den leader coordinator trains leaders and encourages them to attend ongoing training, such as roundtable, pow wow, outdoor training, youth protection training, etc. The goal of the pack trainer is to have 100 percent of the pack leadership trained in their position responsibilities.
ACTIVITY CHAIRS
These positions are essential to providing the energy and focus to make our Pack successful. As a chairperson, you will need to attend the three monthly Pack Leaders meetings prior to your event or program kick-off: 1st meeting to get ideas and review previous year, 2nd present a plan and budget, and 3rd meeting to review the status of your program. You will be provided with a list of parents who volunteered to help with your activity. Please see the Pack Roster for complete listing of Chairmanship positions.
COORDINATORS
The Pack has many activities that are on-going. Parent volunteers are needed to manage each area. As a coordinator, you will be provided with direction from the Pack Committee and will report to them as needed. Please see the Pack Roster for complete listing of Coordinator positions.
DEN LEADER
The main responsibilities of the Cub Scout den leader are:
Work directly with other den and pack leaders to ensure that their den is an active and successful part of the pack.
Plan, prepare for, and conduct den meetings with the assistant den leader and den chief.
Attend the pack leaders' meetings.
Lead the den at the monthly pack activity.
ASSISTANT DEN LEADER
Assistant Den Leaders work directly with their Den Leaders as requested.
DEN CHIEF
The den chief is a Boy Scout who helps the den leader and assistant den leader as needed. He is expected to set a good example and help the cubs complete their requirements. He also serves as a connection to the Boy Scout troop and helps plan the bridging ceremonies for Webelos Scouts.